Creative Collection of Brassware & Brass Handicrafts and Aluminium Utensils with Attractive Finishing and High Utility Features Available!

About Us
Pranika international introduces itself as a firmly established company engaged in exporting with manufacturing firm as a parent company incepted in the year 1993 in Mathura (Uttar Pradesh). Earlier, the production unit was dealing within the territory, but today, it has extended its branches to the global territory. The company is a prime exporter and supplier of an appealing range of Brassware & Brass Handicrafts and Aluminium Utensils. All the products are designed with precision for spreading the Indian culture across the world. They are available with approved quality grades in beautiful designs, exquisite finishes, and affordable prices.
History witnesses the rich culture of India. Presently, also, Indian art is true on its identity. Pranika International being the believer of Indian fraternity. Directors are big time influencer of the art and culture, so they are with the view of spreading Indian culture all around the globe. We are proud being the supplier of all kinds of Indian handicraft items who are the perfect galvanization of Traditional Indian art and contemporary style in it. We have all types of aluminum utensils in all size, aluminum artifacts, brass handicraft products including statutes and other decorative items etc. The products are being manufactured from last 20 or more years.

Benefited by Rich Experience
Products are being manufactured under the complete survellience and deliver the premium quality products at affordable rates and varied designs. Our team has grown since its inception and this has been made possible because of selling our products in huge numbers as well as because of the culture of the company and experience of being in the industry for more than 2 decades. Moreover our rich experience has helped us in knowing the customer needs, which has further helped us innovate our products and present a better version of our products. Moreover, our team is dedicated towards their work and are innovative and creative when it comes to designing as well as execution part. Moreover, staying in the industry for so long has helped us gain insights and have helped us deliver a very rich experience as a result of which our customers have stayed loyal to us.

Strong Team- our support system
Team is one of the most important factors when it comes to growth. We have been the pioneers in this field because of three primary reasons: our dedicated team of professionals, our products and last but not the least our loyal customers who have stayed with us through our thick and thin. Moreover some key qualities of our team members are :

We communicate well with each other and everyone is known for contributing their fair share.
We focus on our goals and results and to uplift each other we support each other.
Our team members are diverse which helps us bring new perspective while planning, designing and executing things.
Lastly, we are organized and have fun while doing our work.

Quality Assurance

The products are designed using the finest raw brass and other materials using advanced machinery. We never compromise with quality standards of the products, hence we always deliver superior quality products. We follow laid quality control policies to give assurance to the clients for offering the finest products at competitive prices.

Why Us?

We have been meeting the needs of the market since last 25 years. We are jumping out from the comfort zone with best suppliers and a skilled team to provide the best. We ensure total customer satisfaction by offering high-quality products and matchless services.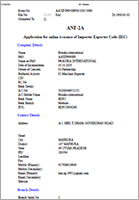 Get in touch with us